AUGUST 2005:
SHADOW KILL is proud to be a finalist
in the Hayden Films Online Film Festival!

SHOW YOUR SUPPORT:
Click the banner below to go to the festival.
Register - FOR FREE.
Then VOTE for your favorite science fiction
short film - SHADOW KILL.


JULY 2005:
SHADOW KILL is proud to be participating in the first annual TVNET.NET Online Film Festival.
The festival runs for the entire month of July. You have to purchase a film festival pass to view and VOTE for your favorite films.
Plese check out the following link for more information:
http://www.tvnet.net/festivalb.php

Also of note: SHADOWKILL.TV will be undergoing a major overhaul very shortly. In fact the new site is well under way, with the creative and design work being done by a fantastic and uniquely creative web design company KONSEPTUAL DESIGN.
Check out some of Konseptual's work at the following link:
http://konseptual.com/

SPRING - SUMMER 2005:
SHADOW KILL was recently screened at Ubercon, an annual gaming convention held at the Meadowlands in New Jersey.
SHADOW KILL was also screened at ICON, a huge, annual Science Fiction Convention in
New York at Stony Brook University on Long Island.

FEBRUARY 2005:
SHADOW KILL will be part of a screening of Sci Fi and Horror films
at Mega Con 2005 in Orlando, Florida on Friday February 25th

Director John Bailey, Shadow Kill Star Laureta Meci, and it's Director
of Photography Edward Arbogast will all be in attendance of the event.
John Bailey will also take part in a film makers panel discussion.

For more details and ticket information you can click on the
following link:
http://www.megaconvention.com/
JANUARY 2005:
SHADOW KILL is a winner of the 2004 DV Awards.
The DV Awards is a new and exciting international competition
celebrating outstanding creative and technical achievements
in the emerging world of digital video production.

To see the list of winners you can click the following link:
http://www.dvawards.com/Fall2004_winners.html
OCTOBER 2004:
ON THE RADIO!!
John Bailey and Laureta Meci will be interviewed this week,
Wednesday October 27 at 7PM US Eastern time.
To listen in go to: www.adrenalineradio.com
Look for the show "B Plus Movie Making
SEPTEMBER 2004:
Please scroll down, there's a lot going on this month!

SHADOW KILL has been accepted into
Shriekfest 2004 - The Los Angeles International
Horror / Science Fiction Film Festival & Screenplay Competition
Raleigh Studios 5300 Melrose in Hollywood, CA
Right across from Paramount Studios
FOR INFO CLICK THE FLOOWING LINK



This month SHADOW KILL will screen at the
2004 M.I.F.F - Melbourne Independent Filmmakers Festival.
FRIDAY SEPTEMBER 10
Premiere Theaters, Oaks Stadium 10
1800 West Hibiscus Blvd. Melbourne, Florida 32901
(321) 953-3388
7 PM in THEATER NUMBER 2
FOR INFO CLICK THE FLOOWING LINK



AND CHECK US OUT ON THIER PAGE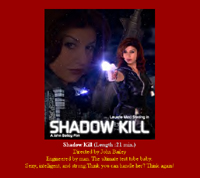 Also This Month: SHADOW KILL and Laureta Meci were featured in:
Illyria- The only Albanian American Newspaper
CLICK ON THE IMAGES BELOW FOR A LARGER IMAGE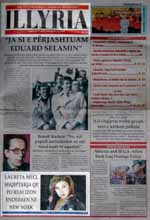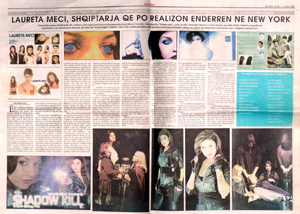 SHADOW KILL is now fully downloadable!!
REAL PLAYER required.
CLICK BUTTON TO GO TO THE DOWNLOAD PAGE.


AUGUST 2004:
SHADOW KILL has been accepted into the
2004 M.I.F.F - Melbourne Independent Filmmakers Festival.
September 9 thru 11 - Melbourne FL
FOR INFO CLICK THE FLOOWING LINK


JULY 2004:
Copies of SHADOW KILL are being prepared at present.
DVD and VHS (NTSC) will be the formats available.
Below is a sample of the packaging artwork.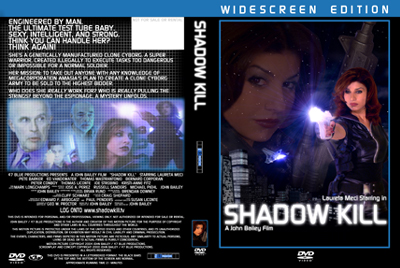 JUNE 2004:
The first screening of SHADOW KILL was held on
June 1, 2004 at Magno Sound and Video in New York City.
John Bailey and the entire cast and crew would like to
thank everyone for attending.
Turn out was great and I hope you all had a good time.
MAY 2004:
Finally SHADOW KILL has been completed
Please keep checking back for news on screenings,
festivals, and copies that will be made available
for viewing.